This one connects the event to illuminati blood rituals. He takes forever to get to the point, but the last third is really good and quite convincing:
Most of what I've read of ley lines comes from this book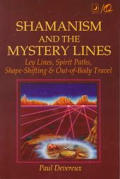 , which corroborates his assertion that temples are built on ley lines. Also, it is the book that convinced me that the Nazca stuff was made by the locals for shamans having out of body experiences (while the History channel prefers to insist it is obvious that aliens built a runway for spaceships).
I started a topic featuring ritual child murders,
and every single link (there were 14) is dead. So watch it while you still can!